Here are a few before and after photos of actual patients of Dr. Geaccone and their wonderful results!
Discolored & Eroded Teeth:
We suspect this patient lost the enamel on her lower front teeth from eating too many acidic fruits, resulting in the erosion of her enamel. We placed beautiful all-porcelain cosmetic crowns over each eroded tooth. She was very pleased and left our office with a big smile.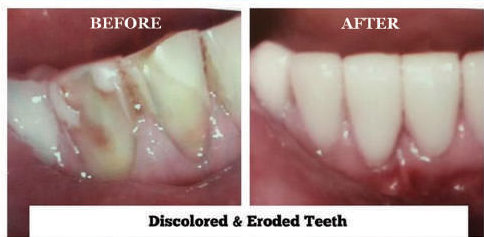 Missing & Crooked Teeth:
This patient came to our office with three missing front top teeth. He said he was too embarrassed to smile due to his missing teeth. We assured him we would restore his confident smile. We showed him some before and after pictures of previous cases similar to his. He was quite impressed and begain to feel more relaxed about his situation. Impressions were taken, the lab made his bridge and one month later we delivered his porcelain bridge. The patient said he had not smiled so big in years since the completion of his dental work. It's a rewarding feeling to see true happiness.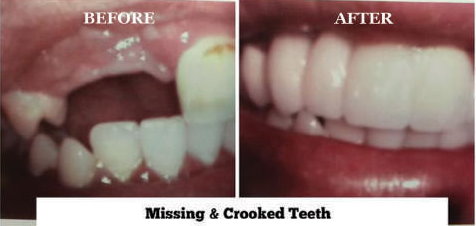 Correction of Spaced Between Teeth and Poor Shade Quality: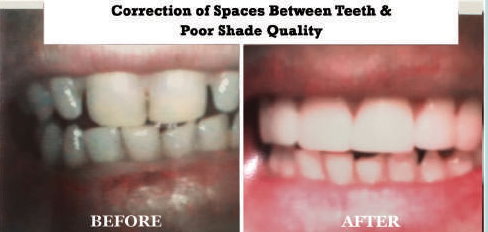 Missing & Decayed Teeth:
This patient wanted to be able to smile again without feeling embarrassed of her missing and decayed teeth. We removed the decay and placed a beautiful all porcelain bridge. We exceeded her expectations with this cosmetic bridge, as she wanted something permanent that would not come in and out of her mouth.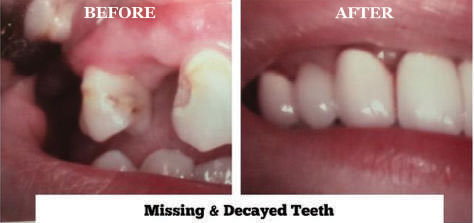 Missing & Decayed Lower Teeth:
This patient was embarrassed about his missing and decayed teeth. We assured him we sould restore and replace his back teeth. The decay was removed and an all-porcelain bridge was permanently placed.One month later he left our office with a confident smile.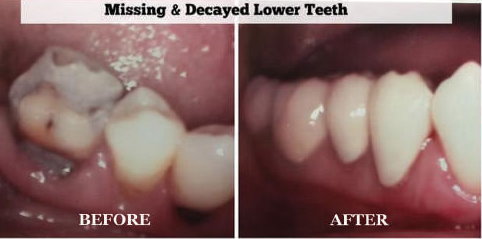 Crown Restoring Correct Vertical Dimension & Shade Quality:
This patient wanted his front teeth to look as perfect as they did in high school. Basically what the patient was requesting was to have straight, white teeth. We accomplished this with the placement of cosmetic all-porcelain crowns. We met and exceeded his expectations with quite amazement. The patient left the office feeling 20 years younger.